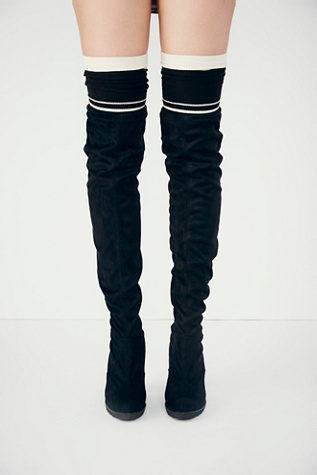 They're gorgeous faux suede boots with authentic leather lining, complete with rubber soles which make them very easy to walk in.
I wear a 6 to a 6.5 depending on the shoe and fit. I opted for the 37 instead of the 36 just in case I wanted to wear socks, leggings or tights. I'm glad I sized up, they wouldn't have fit as nice with socks if I had gotten the 36, but I can definitely tell the slight size difference with socks on. My foot slips just a tiny bit while walking, but nothing too severe.
They come up about 4 inches from my knee, and even when tied will fall slightly -- about an inch or so.
Now wearing skinny jeans may be a whole other issue. The fabric will bunch up near the ankles, making for a not so nice bulge to form from the bunched up fabric. I suggest getting a nice pair of Jeggings or leggings that are thinner, if you are like me and have a little more meat on your bones.
They also fit better than the Stuart Weitzman 50/50s I tried some on and could hardly get my foot in the boot. The Free People Boot has some stretch and makes them VERY comfortable. I also like the fact that even with bigger legs they still look amazing and seem to look good on every shape and size which is awesome!
Now for the original price of $348, I can't see the boots being WORTH that much money... But for the sale price of $99 bucks I think they're worth the splurge.
So if you've been dying for a nice pair of over the knee boots that are comparable to Stuart Weitzmans, this is definitely the way to go. They are softer than a new born's bottom, and unlike the Stuart Weitzman or the Dolce Vita Nikka it won't cost you your first born child, an arm & leg just to be able to buy them.
Hope you all have a wonderful week! I'll be reviewing a product from
Living Libations
in about a week or two :).